D52 Front Caliper Kit
Wilwood's D52 Front Caliper Kit is a direct bolt-on 2 piston replacement for the factory original single calipers on many 1968-96 GM Passenger Vehicles and Trucks. Forged billet aluminum bodies, stainless steel pistons, and competition style high-temperature seals put an end to the rust, bore pitting, and seal failures that plague the OE caliper design. D52 calipers provide low-maintenance performance and a huge weight savings with high temperature reliability for the street and track. D52 calipers mount in the stock location over stock rotors, use the original style OE D52 brake pads and an OE 7/16-20 banjo bolt brake line mounting. Calipers can be used with most wheels that clear the OE calipers. The front calipers with 2.00" piston provide 6.28 square inches of piston area per caliper, in order to maintain the original front to rear brake bias and use of the OE master cylinder. Kits contain Wilwood's hardened slide pins and BP-10 high friction pads. Matching rear calipers are also available for custom installations. Vehicles 1978 & Up (with M10-1.5 banjo bolts) will require new brake lines available below.
1979 Chevy C20 Wilwood D52 Front Caliper Install
Fitment & Installation Details
D52 Front Caliper Kit Assembly Schematic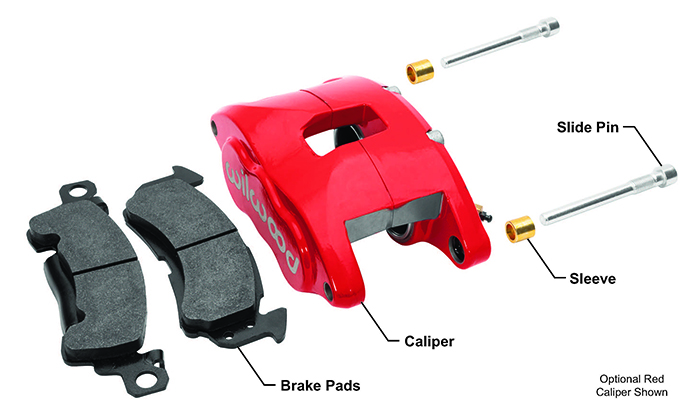 D52 Front Caliper Kit Assembly Schematic
Compatible Vehicles for this Brake Kit

BRAKE KIT:

D52 Front Caliper Kit

This Brake Kit is Compatible with the Following Vehicle Makes:

Buick

Cadillac

Chevrolet

GMC

Jeep

Oldsmobile

Pontiac



Note: Kit may fit other vehicles, call Wilwood Sales⁄Tech Support at (805) 388-1188 for more information.


View All Vehicles

Caution

THIS BRAKE KIT HAS A HUB OFFSET OF:




This Hub Offset will move the wheels inward or outward from the fender by this amount on each side of the vehicle

NOTE:

Check "Figure 2. Wheel Clearance Diagram" in the installation Instructions below to verify you have adequate wheel clearance for this kit.
Kit Components & Specifications
Calipers

Left Hand - Part No:
120-10936-BK
Right Hand - Part No:
120-10936-BK
Type:

D52

Finish Color:

Black Powder Coat

Piston Count:

2

Piston 1 Bore (in):

2.00

Piston 2 Bore (in):

2.00

Piston Area (In²):

6.28

Piston Type:

Stainless

Mount Type:

Floating

Brake Pad Plate:
D52
Brake Pad Area (In²):

10

Brake Pad Volume (In³):

3.9

Pad Compound:
BP-10

D52 Caliper - Black Powder Coat
Rotors

Left Hand - Part No:
Right Hand - Part No:
Type:
Style:
Surface Finish:
Material:
Outside Diameter (in):
Width (in):
Vane Count:
Design Type:
Bedded:
Dynamically Balanced:
Rotor Hats

Hat - Part No:
Type:
Material:
Finish Color:
Hat Offset Dimension (in):
Bolt Circle 1:
Bolt Circle 2:
Bolt Circle 3:
Stud Diameter - BC 1:
Stud Diameter - BC 2:
Stud Diameter - BC 3:
Hubs

Hub - Part No:
Type:
Material:
Finish Color:
Mount Style:
Bolt Circle 1:
Bolt Circle 2:
Bolt Circle 3:
Stud Diameter - BC 1:
Stud Diameter - BC 2:
Stud Diameter - BC 3:
Caliper Parts

O-ring Kit:
130-11509
Replacement Dustboot:
N-A
Replacement Piston 1:
200-10932
Replacement Piston 2:
N-A
Replacement Piston 3:
N-A
Replacement Piston 4:
N-A
CrossOver O-Ring Kit:
N-A
Crossover Tube:
N-A
Self-Bleeder Tube:
N-A
Bridge Bolt Kit:
N-A
Wear Plate - Left Hand:
N-A
Wear Plate - Right Hand:
N-A
Pad Retainer:
N-A
Bleed Screw Kit:
220-0627